Argentine football coach, Diego Maradona, has been hired to train Mexican soccer club Dorados of Sinaloa.
According to reports from Clarin, the football heavyweight will head to Mexico on Saturday before officially starting his role on Monday as the new team director in Culiacan, Sinaloa.
Maradona is renowned in Argentina and remains one of the most well recognised named in world football after scoring a famous goal in the 1986 FIFA World Cup known as the 'hand of God.' As well as coaching teams from around the world, however, he has also struggled with substance abuse throughout the years. The former footballer's cocaine abuse stems back as far as the 1980 's and in 1991 he was banned from playing for 15 months after testing positive for the drug.
Throughout the nineties he continued to battle with drug charges which saw the player suspended a number of times, yet, controversy continued to follow the player, who received a two-year sentence for shooting journalists with an air rifle. Although he claims to be clean of illegal drugs, there was ongoing speculation at this year's Russia World Cup which exposed a number of questionable pictures that looked like the Argentine was under the influence once again.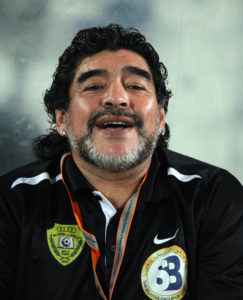 The incoming Mexican coach has been welcomed by the team on social media, however, little details have been revealed about Maradona's contract following his break from another contract that was previously signed with Belarus. He will be joining a team that ranks in the second division and will manage four other Argentine natives amongst the squad: Luis Jerez Silva, Jorge Córdoba, Facundo Juárez and Gaspar Servio as goalkeeper. It comes amidst high hopes that the new coach will turn the fate of the team around and help them succeed through the leaderboards.
"It took us all by surprise, we are eager to welcome him and be with Diego, for us he is the greatest idol we have, it will be a unique experience, I will try to learn what I can, to listen to him,", Servio was recently quoted by Clarin.
The appointment comes months after the Colombian coach of Mexico's national football team resigned after the Russian World Cup. The Mexican national team, known as El Tri to commemorate Mexico's tricolor flag, was seen as somewhat of an underdog yet took the recent World Cup 2018 by storm when they beat football heavyweight Germany 1-0 in their first game, closely followed by a 2-1 win over South Korea. Although they didn't make it past Sweden and Brazil, it was the first time that Osorio had taken a team to the World Cup and alongside a stellar selection of captain Andres Guardado and star player Javier Hernandez, the team had  certainly caught the attention of the world audience. It was, however, a disappointing 12th place finish.
Juan Carlos Osorio began to spend considerable time back in Colombia, and a few months ago ESPN quoted the football coach as looking to coach his own national team. Following the announcement of his leaving the club, Ricardo Ferretti has since been placed as the Mexican coach interim.
"It is no secret that my coaching the national team was a dream,'' Osorio had previously said. "But just like any other Colombian coach, the possibility that I may be able to coach such a great [national] team as our own is inevitable.''
News of Maradona's move to Mexico has actually been met with a number of jokes, as news stories point out the connection between the coach's past and Mexico's booming narcotics trade. It remains to be seen whether the famous footballer will turn the team around, and his somewhat tarnished image, and prove himself in the football sphere once again.